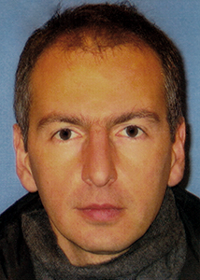 Professor
Scientific Field: Εξόρυξη Πετρωμάτων (Εκσκαφή – Αποκόμιση)
School of Mining and Metallurgical Engineering,
Iroon Polytechniou 9 str.,
GR 15773 Zografou Campus,
Athens, Greece
Office 2.36, 2nd floor
+30 210 772-2208
thmich@metal.ntua.gr
Γεννήθηκε στη Γερμανία το 1969. Σπούδασε στη Σχολή Μηχανικών Μεταλλείων – Μεταλλουργών του Ε.Μ. Πολυτεχνείου (Δίπλωμα [1993], Διδακτορικό Δίπλωμα [2001]).
Στα ερευνητικά του ενδιαφέροντα περιλαμβάνονται η εξόρυξη πετρωμάτων με μηχανικά μέσα και η φθορά των κοπτικών τους, η διαχείριση μεταλλευτικού εξοπλισμού και η προσομοίωση μεταλλευτικών συστημάτων.
Εργασίες του έχουν δημοσιευθεί σε διεθνή και ελληνικά περιοδικά και πρακτικά συνεδρίων, ενώ έχει συν-επιμεληθεί τα πρακτικά δύο διεθνών συνεδρίων. Συμμετείχε στην επιτροπή εμπειρογνωμόνων για τη σύνταξη του προτύπου ISRM Suggested method for determining the abrasivity of rock by the CERCHAR abrasivity index.
Είναι μέλος των Society for Mining, Metallurgy & Exploration (SME), International Society of Rock Mechanics (ISRM), Society of Automotive Engineers (SAE) και Society of Mining Professors (SOMP).
Voulgarakis AG, Michalakopoulos TN and Panagiotou GN (2016). The minimum response time in rock blasting: a dimensional analysis of full-scale experimental data. Mining Technology, Vol. 125, No. 4, pp. 242-248, doi:10.1080/14749009.2016.1175163
Alber M, Yarali O, Dahl F, Bruland A, Kaesling H, Michalakopoulos TN, Cardu M, Hagan P, Aydin H and Ozarslan A (2014). ISRM Suggested method for determining the abrasivity of rock by the CERCHAR abrasivity index. Rock Mechanics and Rock Engineering, Vol. 47, No. 1, pp. 261-266, doi:10.1007/s00603-013-0518-0
Michalakopoulos TN, Anagnostou VG, Bassanou ME and Panagiotou GN (2006). The influence of steel styli hardness on the Cerchar abrasiveness index value. International Journal of Rock Mechanics and Mining Sciences, Vol. 43, No. 2, pp. 321-327, doi:10.1016/j.ijrmms.2005.06.009
Papavasiliou A, Roumpos C, Voulgarakis A and Michalakopoulos T (2016). Life cycle analysis of a lignite-fired electricity generation system. In 13th International Symposium Continuous Surface Mining 2016 (eds. V Pavlovic et al.), pp. 403-415. Yugoslav Opencast Mining Committee, Belgrade
Voulgarakis A, Roumpos C and Michalakopoulos T (2016). Long-term planning of continuous surface mining operations in a lignite-fired electricity generation system. In 13th International Symposium Continuous Surface Mining 2016 (eds. V Pavlovic et al.), pp. 643-655. Yugoslav Opencast Mining Committee, Belgrade
Michalakopoulos TN, Roumpos CP, Galetakis MJ and Panagiotou GN (2014). Discrete-event simulation of continuous mining systems in multi-layer lignite deposits. In 12th International Symposium Continuous Surface Mining (ed. C Niemann-Delius), pp. 225-239. Lecture Notes in Production Engineering, Springer, Cham, doi:10.1007/978-3-319-12301-1_21
Undergraduate Studies
Εκμετάλλευση μεταλλείων ΙΙ, 6ο εξάμηνο
Εξόρυξη πετρωμάτων ΙΙ – Εξόρυξη με μηχανικά μέσα, 8ο εξάμηνο
Συστήματα φόρτωσης – μεταφοράς σε τεχνικά έργα και μεταλλεία, 8ο εξάμηνο
Προσομοίωση μεταλλευτικών συστημάτων, 9ο εξάμηνο
Postgraduate Studies
Μηχανική όρυξη σηράγγων, ΔΠΜΣ Σχεδιασμός και κατασκευή υπογείων έργων
Εξοπλισμός εξόρυξης – φόρτωσης – μεταφοράς, ΔΠΜΣ Σχεδιασμός και κατασκευή υπογείων έργων
---